Dear Patients,
The safety of our patients and staff has always been a top priority. As of March 16th the Royal College of Dental Surgeons of Ontario has mandated all dental offices in the province to suspend all non emergency dental appointments until further notice. This preventative measure to contain COVID-19 will be reassessed early April. We will be in touch to reschedule all appointments once we have reopened.
If you have a TRUE dental emergency, please call the Dental Emergency Clinic at 416-485-7121 or leave a message on our office line at 416-534-9991. Rest assured the messages will be reviewed periodically and we will respond ASAP.
Thank you for your patience and understanding during this time. Stay safe and we look forward to seeing you as soon as the Ministry of Health lifts the provincial suspension.
ADDITIONAL INFORMATION
During this time, we have implemented several measures to allow us to safely provide emergency treatment. These measures include:
Hand sanitizers located in each operatory, reception desk and at side tables in the reception area. Sanitizers are checked and refilled regularly.
Public touch points such as counters, sinks, reception area, kid's play area, door handles and knobs are cleaned multiple times throughout the day.
Both actively screening (asking questions) and passively screening (signage) our patients for potential disease.
Toys have been removed from the kid's play area. We have updated our TV to play child friendly movies for entertainment.
All employees are prohibited from reporting to work with signs or symptoms of a respiratory illness that can be transmitted to others.
Maintaining the standards of practice regarding Infection Prevention and Control (IPAC) as mandated by the RCDSO.
To assist us with our containment efforts, please do not report to the office if
You feel unwell, have a fever, cough, cold or flu-like symptoms.
If you have recently travelled outside of the country.
You have been in close contact with someone with a known or suspected case of COVID-19 (coronavirus).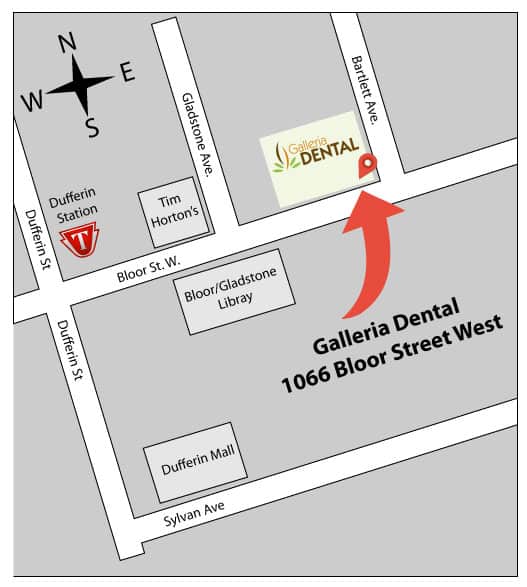 Welcome To Galleria Dental
NEW LOCATION! 
1066 Bloor Street West
(Previously Located at Galleria Mall)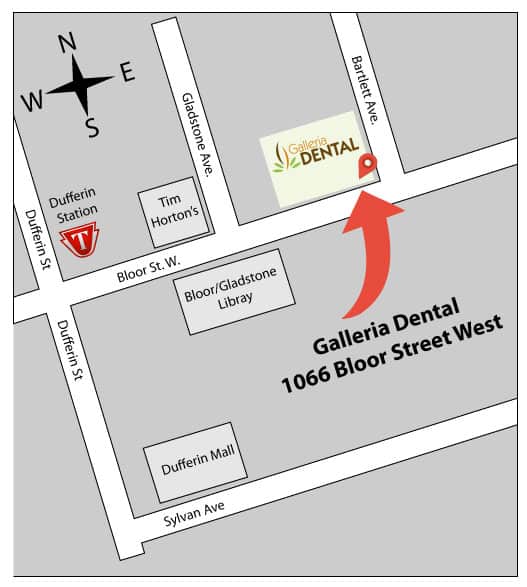 Main Intersection – Bloor and Dufferin
One block East of Dufferin, at the corner of Bloor and Bartlett
Across from the Gladstone Library, near Tim Hortons
TTC accessible – steps away from Dufferin subway and bus
Short walk from Dufferin Mall
Dr. I. Costache & Associates – Your Bloor and Dufferin dentist, offers a comprehensive treatment approach for adults and children.
At Galleria Dental – your Bloor and Dufferin dentist, we constantly strive to provide our patients with the finest care available. Our investment in state-of- the-art technology invites informed decision making and enables patients to make wise choices concerning their oral health. Our philosophy is based on mutual respect. We treat patients with attention and courtesy and expect the same in return. At our Toronto dental office, we welcome people from a diverse range of cultural and ethnic backgrounds and communities.
New Patients and referrals are always welcome!
Galleria Dental is proud to be multicultural! We are more than happy to converse in:
Portuguese, Spanish, Romanian and French!

Highlights At Galleria Dental

A beautiful smile is an important asset in any social or professional interaction. Let us help you make a great first impression!

We make dentistry educational for kids.  It goes a long way to ensuring a lifetime of beautiful, healthy smiles.

We provide dental care for all ages. Our emphasis is on prevention for total oral and body health.